SDG Barometer 2022: room for optimism but still a long way to go
Halfway the 2015 adoption of the Sustainable Development Goals (SDGs) and the 2030 deadline, the first Dutch national SDG Barometer study shows that there is a lot to be optimistic about, but that at the same time here is still a long way to go.

The SDG Barometer provides important insights into the adoption and implementation of the SDGs by Dutch organisations, and at the same time, it is a call to action to all organisations to deliver on the SDGs.

The research has been conducted by Amsterdam School of International Business (AMSIB Amsterdam University of Applied Sciences), Maastricht School of Management (Maastricht University), TIAS School for Business and Society (Tilburg University).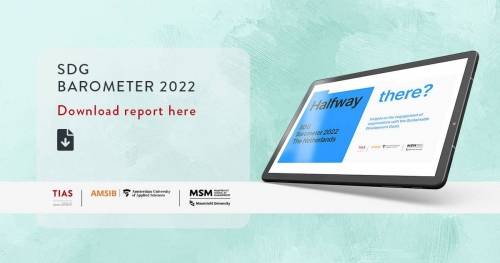 A few findings
91% of the participating Dutch organisations is aware of the SDGs
64% will take the SDGs (far) more into account in the next two years
SDGs have become the responsibility of senior management
11% have not integrated the SDGs and is not planning to do so
Organisations still find it difficult to embed sustainability and the SDGs in their overall strategy
8 out of 10 organisations expects the government to take a more active role in stimulating organisations to adopt the SDGs
Read a more extended summary in the news item or download the full report here.