Join our free webinar and learn all about the MSM Executive MBA and Online MBA
On 12 December 2018 MSM organizes a webinar to tell you all about our Executive MBA and Online MBA programs.
During this 30 minute webinar we will explain the value of the MSM Executive MBA and the Online MBA for your career development. To make you understand the similarities and the differences of the Executive MBA and the Online MBA, we will highlight the structure and features of both programs. In this way we would like to provide you with all the information you might need to decide which program would suit you best.

Date:
12 December 2018
Time:
2.00 pm CET
Presenters:
Dave Cass - Director of Education and Executive Development
Pascale Hardy, PhD – Director DBA and Online Education
Watch the short video below and learn from Dave Cass why you should follow this webinar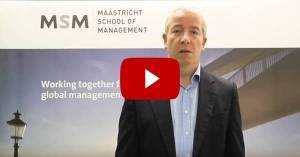 During the webinar you will have the opportunity to ask questions.
Want to join? Click here to enter the registration page.
On this page click on the Register button at the bottom of the page.
Important: Once you have registered for the webinar, you will receive your log-in details from Cisco Webex. We advise you to check upfront if you are able to join the webinar without technical issues. To check this you can activate the Event Manager set up at your PC or laptop via this link.