A successful launch of 'Strengthening WASH Expertise in Sierra Leone' project
History has been made in Sierra Leone on February 25, 2019 when Maastricht School of Management (MSM) was welcomed by Government Technical Institute (GTI) in Freetown. GTI hosted the launch event of the Strengthening WASH Expertise in Sierra Leone (SWESL) project.
GTI hosted the launch event of the Strengthening WASH Expertise in Sierra Leone (SWESL) project. GTI is the lead beneficiary partner in this 2-years project, which is sponsored by the Orange Knowledge Programme from Nuffic. During the launch event, GTI Principal Mr. Edward Lamin stressed the main aim of the project: establishing a 'fit for purpose' Polytechnic meeting the demand for skilled WASH professionals.
Subsequently, Mr. Huub Mudde, Project Director, introduced MSM after which Mr. Joel Cutting, MSM project team leader, gave a brief overview of the SWESL project. He indicated the ultimate objective of the project is to fill in the WASH capacity gap, as investments in infrastructure and institution building have not been matched by investments in HR. During the event, main stakeholders expressed their support to the project. The Deputy Minister of the Ministry of Water Resources (MWR), Dr. Edward Sandy, described the project as a "laudable initiative" and stated that the ministry endorses this initiative as they share the concerns on the topic. In addition, he expressed the ministry's commitment for the well-implementation of the project in order to make water available in all parts of the country. The representative of the Ministry of Technical and Higher Education (MTHE) commended the relevance of this project in light of the increasing demand for technical and vocational training in water and sanitation. The discussion comprised also the enthusiastic participation of a representative of the Environmental Health and Sanitation Department (EHSD) and of UNICEF.
Nuffic Orange Knowledge Programme
The Orange Knowledge Programme is a €195-m Dutch global development programme, available in 53 developing countries and managed by Nuffic, a Dutch non-profit organisation for internationalisation in education. Launched mid-2017, it aims to have provided tens of thousands with the possibility to change their future through education and training by mid-2022.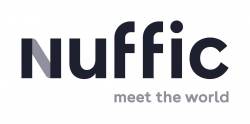 Related news
Nuffic grants OKP TMT+ project in Sierra Leone to Maastricht School of Management

'Enhancing water efficiency and food security through Egyptian TVETs'

A Triple Helix+ approach towards Inclusive and Conflict-Sensitive Development in Cauca Colombia

MSM will manage project to end impunity on sexual and gender based violence in Uganda

Improvement of agricultural vocational education in Ethiopia

Nuffic grants food & nutrition security tender in Rwanda to Maastricht School of Management