MSM Graduation Ceremony 2020
On 18 September 2020 the annual Graduation Ceremony of Maastricht School of Management will take place. During the Graduation Ceremony students will receive their Master of Business Administration, Master in Management, and DBA degrees.
Location Graduation Ceremony
MECC
Forum 100
6229 GV, Maastricht
Close to the MSM building
Registration
Attending the Graduation Ceremony is on invitation only.
Registration is closed.
Program
| | |
| --- | --- |
| 13.30 hrs | Arrival of guests in Expo Foyer MECC |
| 14.00 hrs | Opening by Mr. Meinhard Gans, MSM CEO/Dean a.i. |
| 14.05 hrs | Key-note address by Mr. Lodewijk van der Borg, CEO Kaak Group |
| 14.35 hrs | Musical intermezzo by Maastricht Society of Music (MSM) Quartet |
| 14.45 hrs | Address by Mr. David Cass, MSM Director of Education and Executive Development |
| 14.50 hrs | Awarding of the degrees and awards |
| 15.50 hrs | Musical intermezzo by Maastricht Society of Music (MSM) Quartet |
| 16.00 hrs | Valedictory speeches graduates |
| 16.25 hrs | Closing remarks by Dr. Stuart Dixon, MSM Director of Academics |
About the key-note speaker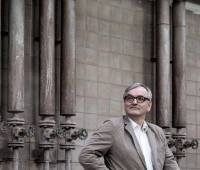 Mr. Lodewijk van der Borg, CEO of the Kaak Group, studied mechanical engineering at the Technical University in Eindhoven. During his career he worked, amongst others, at the roller coaster design company Vekoma and the bus construction company Den Oudsten. Van der Borg is the author of several books including the crime novel "The ICER killing", an innovative management book in which the principles of QRM are raised and clarified.
The Kaak Group connects the traditional bread-baking craft with state-of-the-art industrial bakery technology and is market leader with an annual turnover of 200 million US dollars.
In his key-note address Mr. van der Borg will elaborate on the need for a different business approach to be able to cope with environmental issues and the Covid-19 pandemic.
Covid-19 measures
We want to make the MSM Graduation 2020 a festive and memorable event for our students. However, in all aspects of the event MSM and MECC will adhere to the measures against Covid-19 as set by the Dutch government. In case you attend the MSM Graduation Ceremony, we expect you to comply with these measures as well. For more information: https://www.government.nl/topics/coronavirus-covid-19/tackling-new-coronavirus-in-the-netherlands.

Please note that if the Covid-19 situation changes, requiring stricter measures again, we might have to adjust or cancel the MSM Graduation Ceremony.

Please be informed that the MSM Graduation Ceremony will be broadcasted live as not everybody is able to join. By attending the Graduation Ceremony you might be included in this livestream.