Offered by the Corvers Chair in Innovation Procurement

Public Procurement and Innovation are two fundamental drivers for growth and development, a point particularly stressed by the 2014 EU Public Procurement Directives. Indeed, since for example in the EU innovation procurement through public expenditure counts for about 18% of the GDP, with tight public finances procurements delivery of best value for money has come crucial for the public sector.

Moreover, because of its size, procurement is in a best position for promoting innovative solutions to enhance societal growth and welfare. Innovation procurement also plays a role in industrial policy – vital for creating and maintaining a competitively growing economy, and an area of concern in the EC and industrially lagging countries in Africa and Latin America in recent years.

For the above goals to be met, capacity building is essential. Therefore, this 5-day Executive Education Program has been developed to provide public policy makers and scholars in innovation and public policy a concise, but cutting edge, introduction to the Economics of Innovation Procurement.
Course topics
The course will contain the following topics:
(focus on them may vary depending upon the class composition and experience)
The economic impact of innovation
Radical innovation
Prizes, contests and incentives to stimulate innovative solutions
The law and economics of EU pre-commercial procurement (PCP) and innovation procurement (PPI)
Policy rationale for innovation procurement
State aid issues in innovation procurement
Suitable procurement procedures
Value engineering
The main financial indicators for decision making when procuring innovative solutions
Monitoring methodologies
Case studies
Project discussion and presentation
The below table provides an outline of the topics to be covered in this course: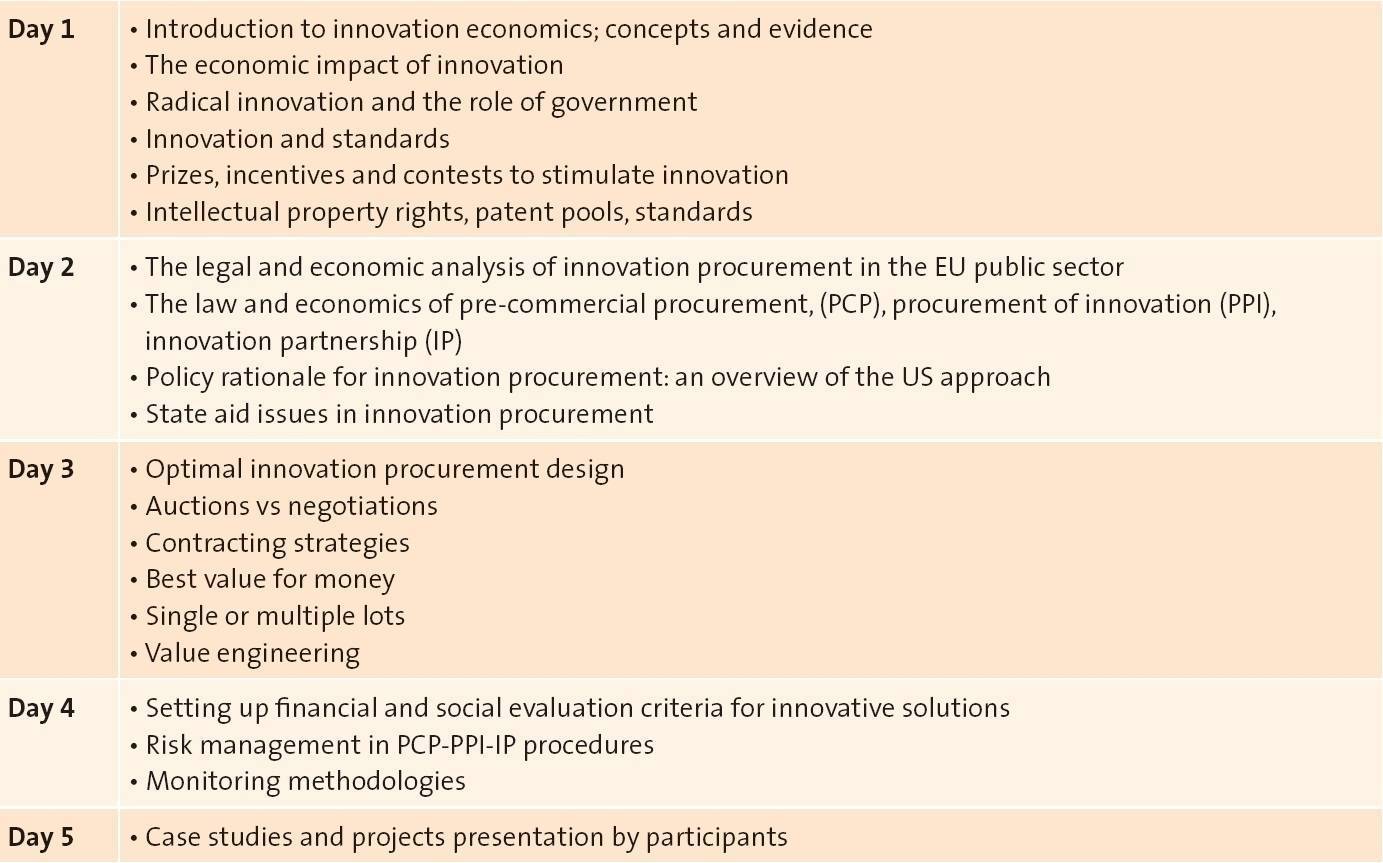 Course length
The standard format of the program is five days, 30 hrs., and intensive course. This will include lectures, classes, presentations and all other relevant activities.
Teaching methods
Teaching will aim to be interactive and participants pro-active attitude is fundamental for the success of the course. For this more than one method will be adopted. More traditional lectures will be delivered for the conceptual-methodological parts and the exposition of case studies. The attendees may perform project presentation and discussion, presentation of professional experience, individually or as groups.
Your profile
The program is designed for:
Policy makers in government and international bodies who have an interest in innovation and public procurement
Officials, planners and legal advisors to government procurement departments
Scholars working on the economics of innovation
Certificate/Diploma
Each participant receives a certificate of attendance on the last day of the course. Only for those who will complete an additional assignment will receive a diploma. In case you would like to have more information you contact ep@msm.nl
About Corvers Commercial and Legal Affairs
Corvers Commercial and Legal Affairs is the sponsor of the Corvers Chair in Innovation Procurement at MSM, instituted in 2016. Corvers is a leading legal consultancy firm in the Benelux area, specialized in European public procurement law, innovation, IPR and contracting. Corvers acts as an advisor and external expert for both governmental bodies and commercial businesses. Its value relies on the complete range of legal services offered (from legal research and analysis to legal consultancy); its unique combination between academic research; expert role towards policy makers and legal consultancy to contracting authorities; strong and wide network; and involvement in a wide range of cutting-edge projects relating to e.g. new policies, new markets, new products or services, new distribution channels and new technologies. Corvers is consortium partner for the European Commission's EAFIP initiative (www.eafip.eu) on innovation procurement.